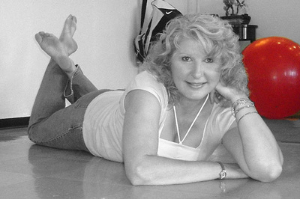 Kat Robinson was only 17 when she was bitten by a tick and contracted Rocky Mountain Spotted Fever, a debilitating and often fatal disease. Some paralysis on her right side, extreme photosensitivity, and horrible joint and muscle pain, she spent years tangled in a web of anger, depression and self loathing. It wasn't until she was in her 30's that she discovered yoga and began to put everything into perspective.
Through her yoga transformation she realized that she could manage her joint pain, and she gained a strength and flexibility in her body that her "pre-illness" body did not have. She also realized that she looked at herself differently. By unlocking feelings of the past, she was no longer a prisoner of her negative dialogue that she didn't even remember why she had.
It wasn't until her son went to USAF basic training 3 weeks after 9/11 that she immerged herself, studying professionally and receiving her teaching certification and opened Active Kat Yoga in 2002. Today Kat is a prominent name in the yoga community and Active Kat Yoga is one of the premier yoga studios of South East Missouri. Her philosophy is "Yoga is for everybody and every body." An Avid Sewist, Kat developed "Sewing Yoga" a therapeutic yoga program for those who spend too much time at the machine. She produced and starred in the corresponding DVD, "Sewing Yoga" and it is a popular item in sewing rooms around the world. Sewing Yoga is also available on Udemy.com.
Kat,Active Kat Yoga, and Sewing Yoga have been featured in Fit Yoga, Sew News, Sewing World (UK), Healing Lifestyles and Spas, Threads, Quilter's Home, Om, Yoga, and Lifestyle (UK), Yoga Natural Living (UK and US), Stitch, Elephant Journal, is a blogger for Yogahub and also serves on their faculty for the Virtual World Yoga Conference. She has also presented Sewing Yoga at the American Sewing Guild National Conference. Kat is the founder of the Missouri Yoga Association. Kat is the first Certified Yoga Therapist accredited with the International Association of Yoga Therapists in the state of Missouri.
CREDENTIALS:

Kat Robinson, E-RYT 200, YACEP, C-IAYT, S.A.C., Dip.
trained in Integrative Oncology Yoga from MD Anderson Cancer Center
Certified Ballet Fitness Instructor American Sport and Fitness Association
graduate of Stonebridge Associated College (UK)
diploma in Meridian Psychotherapy (E.F.T.)
diploma in Qigong
diploma in Acupressure/Reflexology
non traditional Usui Reiki Master
Core Strength Vinyasa Trained by Sadie Nardini
YogaBody trapeze student of Lucas Rockwood
Certified Fitour Advanced Personal Trainer
Certified Fitour Senior Fitness Instructor
Certified Fitour Nutritional Advisor
Certified AFPA Yoga Fitness Instructor for Special Populations
Jade Yoga Mat Ambassador 2015 Calendar
Premier School of Business
Founder Missouri Yoga Association
Founder Yoga in Jail
Christy Spradling has been doing choreography since she was drum major in the high school band. Taking todays most popular music creating dance movements that are accessible to everyone. Having taught for the last two years, Christy's dance troupe has performed at various functions including Relay for Life and The Halloween Spooktacular. Dance steps are appropriate for ages 8 and up, no dance experience necessary.
Davonne Gibson graduated from Truman State University with a degree in International Business. While living in Cairo, Egypt, she picked up a part time job at Reform Pilates Studios. She fell in love with Pilates while working there and eventually went on to certify as an instructor in 2015. Davonne is a Classically trained Peak Pilates Instructor but likes to include other contemporary moves in her classes. She is trained on Mat, Reformer, Cadillac and other Pilates equipment. During her time at her previous studio, she has worked with all types of clients ranging from young to old, fit to unfit, and even those suffering from injuries. As Joseph Pilates says, 'You're only as young as your spine'. Davonne wants to pass on her love of Pilates to you and keep you feeling young and healthy.
Mindy Held grew up in South St Louis, from a big loving family. Having a love for working with animals. She graduated in 2000 with an Associates of Science in Veterinary Technology with experience in clinical, shelter, and behavior with animals. Yoga was first introduced as a stress reducer and became a big part of my life. After moving to Southeast Missouri and then finding The Edge Your Fitness Advantage (Cape Girardeau) in 2012, having a background in dance, it gave her the opportunity to start her path in yoga and body movement. She has found she truly loves sharing the discovery and benefits both mental and physical with children and adults. In May 2014 she became certified through KAY (Kidding Around Yoga) to teach yoga to children ages 2-12 and the journey has continued from there. Also opening new pathways including a love for Aerial Arts! She completed her 200 RYT in May 2016 and currently working on completion of Level 1 Aerial Yoga and Aerial Silks Level 1 through Born to Fly Productions. Currently she is teaching... kids and adult yoga mat and aerial classes, silks, kid's circus classes, and water fitness classes. "My hope is that along with adults that children can also reap the many benefits that yoga, and aerial arts have to offer as they grow and develop in life, and hopefully develop a healthy and active lifestyle." Love, Mindy
Daphne Moor's work revolves around the root cause of conditions and tapping into the innate blueprint of Health and Wellness. Certain conditions can be maintained and/or resolved with Acupuncture. Pain and discomfort lessened and/or dissolved but true healing is a participation between patient and facilitator delving deep into the innate cause of dis-ease. Once the innate cause and contributors are discovered, true healing can be realized.
Daphne Moor, is a national and state licensed acupuncturist. She is a graduate of East West College of Natural Medicine in Sarasota, FL.
Alice Mickey-Shelton's love of yoga began in 1996 when she walked into Active Kat Yoga Studio for her first class. "Since that first class, yoga has been a major component in my journey to maintain both physical and emotional health." My intent is to help others discover how gentle yoga can make them feel more alive and be more of who they want to be. Alice is a certified yoga instructor with Fitour.
Hannah Smothers teaches Beginner Ballroom Dance. She has been passionate about dance and movement since she was a toddler. Though her roots are in Doniphan, when she was a teenager she had the opportunity to to learn ballroom at Top Hat Dance Studio in Goldsboro, NC. Hannah teaches various steps in Foxtrot,Watlz, Tango, Chacha, and Swing. Hannah is very excited to be able to offer her love of dance to couples and singles of all ages and fitness levels.
Sign up for our E-mail list for a free video, tips, recipes and more!!